Bingung memutuskan jenis gitar elektrik apa yang bakalan Anda beli saat berada di toko musik? Di sini saya coba memperkenalkan Anda pada beberapa jenis gitar yang sudah dipakai para gitaris ternama


Fender Stratocaster
Beberapa gitaris yang identik dengan Fender Stratocaster di antaranya, Eric Clapton, John Mayer, Jimi Hendrix, Steve Ray Vaughan, Ritchie Blackmore (Deep Purple), Eric Johnson, Ingwy Malmsteen dan banyak lagi. Di Indonesia, beberapa gitaris yang kerap memakainya biasanya band-band yang lebih berwarna blues dan rock n roll. Sebut saja misalnya, Andra (Dewa 19), Rama Satria atau Abdee Slank.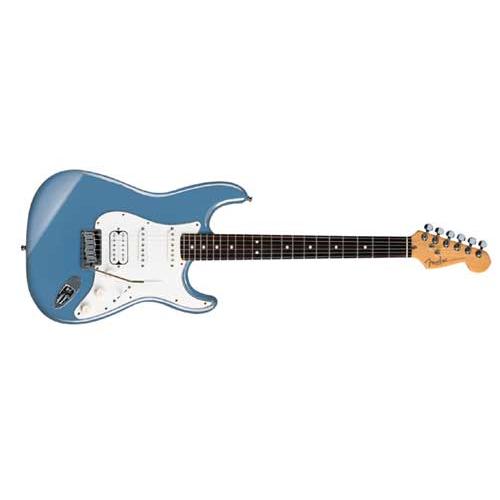 Secara pribadi, aku sangat menyukasi karakter gitar ini. Tonenya sangat pas untuk mereka yang senang memainkan lick-lick blues dengan distorsi yang tak begitu berat, tapi serasa mencabik. Anda bisa mengenali karakter tonenya pada lick-lick gitar yang dimainkan Jimmy Hendrix. Untuk yang lebih gahar cobalah dengar pola permainan Ritchie Blackmore di hampir semua musik Deep Purple.
Fender Telecaster
Menurut saya, di Indonesia, gitaris yang bisa dikatakan berhasil merepresentasekan fungsi Fender Telecaster ialah Eross Sheila on Seven. Untuk pemain yang tidak begitu suka efek distorsi gitar berlebihan, Telecaster memang pilihan yang tepat. Unsur akustiknya masih tetap terasa meskipun sudah menggunakan efek distorsi.
Mau lebih jelasnya lagi, cobalah dengarkan lagu-lagu The Rolling Stones, di mana suara gitar yang mengutamakan efek overdrive dan open tuning (senar terbuka) kian terasa. Lagu 'Hongky Tonk Woman, misalnya. Di lagu ini, Keith Richards, sang gitaris, berhasil memasukkan tone Fender Telecaster ke dalam sebuah musik berwarna rock n roll tanpa menambah-nambahi efek distorsi yang berlebihan. Untuk gitaris yang tak begitu suka berimproviasi berlebihan dengan lick, tapi lebih suka bereksplorasi deng riff dan menggabungkannya dengan melodi, Fender Telecaster adalah pilihan yang tepat. Be a rock n roll guitarist!
Kramer
Wow! Ini gitar yang saya anggap paling garang! Kelebihannya terletak pada pick up nya yang sensitif. Tak heran bila gitar ini yang paling sering dipakai untuk memainkan lick-lick gitar yang tidak hanya mengandalkan picking, tapi juga pull, tapping dan hammer.
Sekilas mengenai teknik pull dan hammer, teknik ini pertama kali diperkenalkan oleh Jimmy Hendrix, di era tahun 1970-an. Di era rock 1980-an, Eddie Van Halen mengeksplorasinya lagi. Gitaris band Van Halen itu pun sebenarnya mengadopsi pull dan hammer dari pola permainan syntetizer ke gitar. Dan asal tahu saja, gitar yang memungkinkan untuk mewujudkan itu ialah gitar Kramer!
Eddie Van Halen wajib berterimakasih pada gitar ini. Soalnya, di tahun 1980-an, banyak gitaris yang berubah haluan dan ingin meniru gaya permainan Eddie. Dia dikenal sebagai (guitar hero) pahlawan gitar pada saat itu.
Sekarang, Anda sudah tahu kan kehebatan gitar ini? Kalau Anda termasuk tipe gitaris yang senang berekspolarasi dengan efek-efek distorsi, Kramer adalah pilihan yang tepat. Be a guitar hero, like Eddie!
Ibanez
Ibanez adalah salah satu gitar yang sangat layak diperhitungkan jika Anda berniat membeli gitar elektrik berkualitas. Baru-baru ini, gitaris The Rising Force, Herman Li, datang ke Medan dalam sebuah klinik gitar untuk menunjukkan kehebatan Ibanez. Apa beda Ibanez dengan yang lain? Nah, ini dia yang menarik. Ibanez adalah perpaduan antara gitaris blues dan metal. Bahkan, gitar ini dikenal memiliki kedekatan 'soul' dengan gitarisnya.
Sejumlah 'dewa gitar' rock menggunakan Ibanez sebagai senjatanya di panggung. Sebut saja misalnya, Joe Satriani, Steve Vai, Paul Gilbert. Menariknya, Ibanez tak hanya sesuai untuk rock, tapi juga jazz. Joe Satriani sudah membuktikannya. Untuk efek distorsi tingkat tinggi pun, Ibanez sudah teruji. Kalau tak percaya, coba dengarkan permainan Steve Vai, yang bisa mengeluarkan efek suara 'aneh', mulai dari suara kuda sampai suara mobil ferari yang melaju dalam kecepatan tinggi. Keren kan?
Tak cukup sampai di situ saja, untuk blues latin, jazz, fusion, Ibanez adalah pilihan yang tepat. Beberapa gitaris blues, latin dan jazz yang menggunakannya ialah Carlos Santana, dan dua dewa gitar jazz fusion John McLaughlin dan Patt Matheny.
Les Paul
Aha! Ini adalah gitar kedua yang paling aku suka setelah Fender. Kehebatannya sudah teruji. Sebenarnya, ada banyak tipe gitar Gibson, tapi Les Paul adalah gitar yang paling populer setelah digunakan oleh beberapa gitaris rock dan blues. Dan asal tahu saja, Les Paul sebenarnya dulu diperuntukkan untuk musik jazz oleh penemu signaturenya, Les Paul.
Les Paul semakin disegani setelah digunakan gitaris sekelas Jimmy Page, gitaris Led Zeppelin. Selain bodinya yang seksi, Les Paul juga tak kalah garang untuk menciptakan tone gitar yang eksploratif. Bila Steve Vai dan Joe Satriani berhasil bereskploasi efek distorsi dengan Ibanez, maka Jimmy Page sudah duluan melakukannya di era kejayaan Led Zeppelin, tahun 1970-an. Anda bisa mendengarkannya pada lagu 'Whole Lotta Love", di mana Jimmy menciptakan efek suara kelelawar dan gesekan biola dengan Les Paul!
Satu lagi gitaris yang juga berhasil merepresentasekan kehebatan Les Paul, siapa lagi kalau bukan Slash (Guns N Roses). Gitaris yang pernah terang-terangan mengagumi Jimmy Page ini berhasil menciptakan lick-lick gitar yang dinamis dengan Les Paul. Tak heran bila mereka wajib berterimakasih kepada (Alm) Les Paul. Dan tak lupa, Joe Perry, gitaris Aerosmith, di mana ia berhasil menancapkan namanya sebagai salah satu gitaris blues terbaik yang pernah ada.
Schecter
Schecter itu sebenarnya adalah merek Amerika dari Schecter Guitar Research. Didirikan tahun 1976 oleh David Schecter. Awalnya (antara 1976-79) mereka adalah pembuat pemasok parts2 gitar merek fender, gibson namun tidak pernah merakit gitar secara utuh. Tahun 1979 merek baru membuat gitar custom, Model pertamanya adalah telecaster style dgn 2 humbucker pickups dan Gibson Les Paul style pick up selector. Pete Townshend tertarik dgn gitar tersebut dan menjadi gitar andalannya s/d penampilan The Who di Live Aid. Dia kemudian mempunyai beberapa instrumen serupa yg dibuat dari sparepart Schecter dan dirakit oleh Schecter dan luthier Inggris Roger Giffin.
Mark Knopler juga menggunakan gitar ini thn 1980, model stratocaster style. Dipake pas rekaman album ke 3nya Dire Straits (Making Movie). Doi banyak punya gitar schecter dan pada tahun 2004, gitar schecter strat-stylenya dgn warna tobacco sunburst, dilelang dan laku dengan harga diatas US$ 50.000,-.
PRS
( Paul Reed Smith )
PRS Guitars adalah Amerika gitar pabrikan bermarkas di Stevensville, Maryland . PRS Guitars didirikan oleh gitaris dan luthier Paul Reed Smith pada tahun 1985. Perusahaan ini adalah salah satu produsen terkemuka high-end gitar listrik.
Carlos Santana adalah penerima lain dari beberapa instrumen awal Paul Reed Smith. Santana biasa 24-fret, 24 ½ model tanda tangan "skala adalah salah satu model awal PRS 'khusus.
Alex Lifeson dari Rush telah menggunakan gitar PRS sejak tahun 1990, dan terus menggunakan mereka hari ini, di samping merek lain, terutama Gibson , yang menggunakan lebih dari PRS saat ini.
Al Di Meola , dari Return to Forever , terutama menggunakan PRS McCarty Bursa Swasta sebagai artis solo.
ESP
ESP menemukan ketenaran dengan memberikan gitar untuk gitaris yang kemudian menjadi eksponen terkemuka thrash metal musik pada 1980-an, bersama dengan Jackson Guitars dan Dean Guitars , termasuk Metallica , Slayer , dan Megadeth . Sebagai hasil dari dukungan, ESP telah menjadi salah satu pemasok paling populer gitar untuk musik logam berat. ESP adalah instrumen didukung oleh musisi berjumlah ratusan. Sebuah daftar lengkap dari mereka dapat ditemukan di bagian Artists dari situs ESP Guitars '.
ESP ini gitar yang dipake oleh gitaris dan bassist band The Gazette.